Registration Period
Online Registration:
(Pre-Registration):
Friday, November 6, 2020 – Wednesday, March 17, 2021
(Regular Registration):
Wednesday, May 26, 2021 – Friday, July 30, 2021

* Announcement for pre-registered participants will be made a week prior to the the regular registration period as we would set a maximum regulation for on-site participation.
Registration Fee
Live and on-demand streaming
Registration fee
Overseas Participants
5,000 JPY
(50 USD)
Domestic Participants
20,000 JPY
(200 USD)
currency: JPY
(1 USD ≒ 100 JPY)
Registration Procedure
Make your registration by clicking "Online Registration" button below.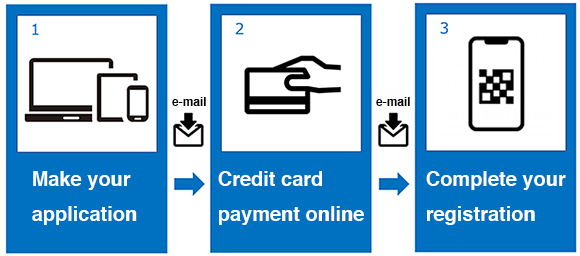 Method of Payment
Payment must be made in Japanese yen and can be made only with Credit Card (Visa, MasterCard, JCB, American Express, Diners Club).

Payment Deadline: 72 hours after you submit your information
Your application will be cancelled 72 hours after the submission without the payment.
Your application will be also canceled if you will not make a payment before the registration deadline.
Once your application will be cancelled, you cannot make new application with the same email address as your previous application. In the case of creating new application, please use another email address.
If you do not receive the confirmation email after the registration, please contact to Registration Support Desk (jwocm-apetna2021[A]reg-convention[D]com( Please change [A] to @ and [D] to . )).
Correction of registration details, Cancellation policy
You may confirm/correct your registration details from the service counter.
Please note that there will be no refund once you complete your payment under any circumstances. Also, you cannot make changes to category/email address/password once you complete a registration.
Issue a certificate of participation/receipt
Please kindly find attached files on a notification email (sent from sendonly-kazasdake[A]convention[D]co[D]jp( Please change [A] to @ and [D] to . )) once you complete your registration.
Online registration
Online registration
Service Counter
You can correct your registration details such as name, affiliation.
Recommended browsers for online registration
PC
Windows
Google Chrome (Latest version)
Mac (Macintosh)
Safari (Latest version)
Smartphone
Android
Google Chrome (Latest version)
iPhone
Safari (Latest version)
Inquires
Registration Support Desk of the 9th Asia Pacific Enterostomal Therapy Nurse Association Conference jwocm-apetna2021[A]reg-convention[D]com( Please change [A] to @ and [D] to . )
Office business hours: 10:00-17:00 on weekdays.
Please contact us via email as our team is working from home to prevent Covid-19 and stopping its spread.