July 3 (SAT)
Opening Ceremony
Welcome Japanese Drums by Prof.Hiromi Sanada, president of this conference!
July 5 (MON)
Closing Ceremony
Climax Farewell Magic by an illusionist, Mr.Hara!
The performer: HARA (an illusionist/stage director)
https://www.youtube.com/watch?v=G4hmELQSr70
The world-renowned masterpiece, performing art,"IBUKI."
Shown at season 11 of America's Got Talent, a popular star discovery program by NBC in the United States that produced Susan Boyle and numerous stars. It expresses the strength of nature of Kumano, a World Heritage Site where HARA was born and raised. A standing ovation received. Acclaimed by discerning judges, the video has recorded a cumulative total of 5 million views.
Mini concert: Anna Saeki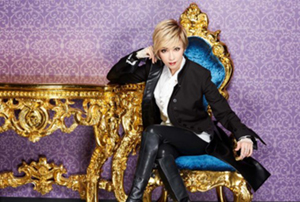 Anna Saeki (Tango singer, Actress)
Born in Asahikawa, Hokkaido, Japan
Sightseeing Ambassador of Asahikawa City
Chosen to be Miss Sapporo in 1987 and made a debut as a tango singer.
Anna Saeki gave concerts at 14 cities around the world including Carnegie hall in NY and Théâtre des Champs-Élysées in Paris. She was chosen as one of the "100 Japanese respected by the world" (Newsweek Japan) and one of the "20 who contributed to tango" (Argentina). To commemorate the 200th anniversary of the establishment of the nation of Argentina, she was invited to give a concert in the "Golden Room" in Buenos Aires as the first Japanese performer. Academy Award winner and director Anne Lee, offered her the opportunity to sing in the movie "Last Caution". Anna Saeki's exceeding displays of humanity and artistry fascinate many and are venerated not only in Japan but all over the world.
Recently, she has been successful as an actress in movies and plays. She acted in the movie, "'MY' way of life: tango of MY life" directed by Hideki Wada and in the plays, "New York in early spring: I will not forget you", "Color of Hope", and "Prelude to the Southern Cross", originally written by Ryo Kurashina. She also created and starred in an original fantasy musical titled "Inner World Evolution: IWE" and continues to evolve as a true entertainer.
Mini concert: bless4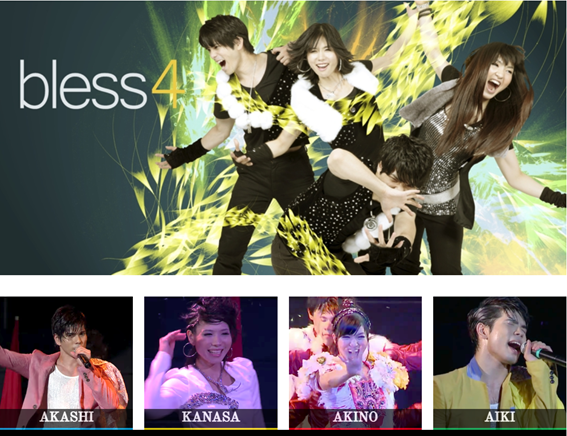 bless4(Profile)
A sibling, chorus and dance group from Okinawa, Japan.
From oldest to youngest, AKASHI(oldest brother), KANASA (oldest sister), AKINO (younger sister), and AIKI (youngest brother).
They made their major debut in 2003 singing the theme song for Fuji TV's Major League Baseball, "Good Morning! Mr. Sunshine"
From their hit single, "Gajumaru no Shita de"(Under the Banyan Tree), they have the following tie-ups:
"Gajumaru no Shita de" CM song for Sutona (Sato Pharmaceutical)
"With You" TVCF Image Song for Shizukuishi Ski Resort
"123" NHK "Minna no Uta"
Wrote and sang the Ending theme song and insert song for the Disney TV Anime "Stitch!"
"Wrote and sang a Christmas CM song for "Warner MyCal Cinemas"
AKINO made her solo debut in 2005 with "Sousei no Aquarion", which is the theme song for the anime series "Sousei no Aquarion" Her songs have ranked #1 in the charts for Oricon ringtones, I-tunes download, Amazon CD, and Karaoke Rankings! For the I-tunes download ranking, her song held #1 for 5 weeks, received the golden disk award, and was a million hit!
Her song received the JASRAC Silver Award in 2009
2010
AIKI(18 at the time) made his debut as an author of a non-fiction novel, based on his own experiences of losing a friend to drugs, titled "Heart Prints ~inochi no Hana~" (from Bungeisha)
Their 1st European release "Dandelion" received #1 on the International Charts on Radio Berlin
2011
bless4 Album "Yumetsumugi" received #3 on Billboard Japan Charts!
2012
"Kimi no Shinhwa~Aquarion Dai ni sho" the Opening Theme Song for Aquarion EVOL appeared #3 on Oricon Charts and received #1 on Anime rankings!
That same month, "Gekko Symphonia" (sung by AKINO & AIKI) received #2 on Anime ranking!
2014
Released "Extra Magic Hour", theme song for TV anime, Amagi Brilliant Park
2015
"Miiro" Opening theme song for TV anime Kantai Collection (kankore) received #2 on Oricon, #1 on I-tunes download charts, and AKINO's album "Decennia" charted #3 on I-tunes Download!!
"Let's Have A PARTY♪" went to the semi-finals in a World Composition Contest
2016
Released "Golden Life", theme song for TV anime Active Raid
2017
Released "SAYONARA" (bless4 lost a student to cancer, and tributes this song to him)
2018
bless4 held their 15th Anniversary Asia Tour "WE ARE WARRIORS" in Okinawa, Fukuoka, Osaka, Nagoya, Sendai, Tokyo, Taiwan, and Hong Kong
In charge of writing and singing the Opening Theme and insert music for the Ryukyu Anime Movie "Tedashiro no Kamiuta".
2019
AIKI makes his solo debut singing "Kago no Naka no Bokurawa", which is the opening theme song for Tv anime Hoshiai no Sora
Rankings around the world:
「SAYONARA」 ranked ranked #2 in J-Pop Top Songs charts in France!!
「Around & Around」 ranked #10 in J-Pop Top Song charts in Canada!!
「Let's Have A Party♪」 ranked #13 in Dance Top Song charts in Thailand!!
「Kokoro ni Fuku Kaze」 ranked #13 in J-Pop Top song charts in Thailand!!
「WARRIOR」 ranked #11in J-Pop Top song charts in Thailand!!
2020
「Tedashiro no Kamiuta」 ranked #5 in J-Pop Top sog charts in Australia!!
「Kokoro ni Fuku Kaze」 ranked #7 in J-Pop Top song charts in Australia!!
「WARRIOR」 ranked #7 in J-Pop Top song charts in New Zealand!!
AKINO celebrates her 15th Anniversary as a soloist, released album "your ears, our years", And held a concert with the same title in April 2021
2021
「WE ARE WARRIORS」 ranked #10 in iTunes J-pop Top Album charts in United Arab Emirates!!
「Yumetsumugi」 ranked #2 in J-pop Top Album Charts in United Arab Emirates!!
KANASA wrote the lyrics and sings the theme song "Winner's Proof" for Konami's e-sports Benami Pro League 2021
They produce their own TV program called KAT-TV, which airs every 2nd Saturday from 2pm on YouTube. http://bit.ly/3pnbNcg
Their documentary "The Entertainers" was aired in over 90 countries around the world.
Well known for their singing, dancing, and performance abilities, the four siblings have continuously brought entertainment up to the next level. Eighteen years after their initial debut, they have hosted performances across the globe, and have continued to impress audiences with their talent.
Website: http://bless4.jp/
Twitter: https://twitter.com/bless4_akaa?lang=en
Facebook: https://www.facebook.com/bless4party
Instagram: https://www.instagram.com/bless4_akaa/?hl=en
YouTube: http://www.youtube.com/user/bless4jp 
certified artist :bless4 is a certified artist for American football team Obic Seagulls(2015~)
Kansai Super Co., Ltd(2013~)
Image character:Green bell Co., Ltd(2013~)
Secret Bay's FIT(2017~)