MESSAGE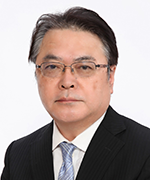 President of ACCP 2022 in Nagoya
Hiroyuki Kamei
(Professor, Office of Clinical Pharmacy Practice and Health Care Management, Meijo University)
The Faculty of Pharmacy of Meijo University in Nagoya is pleased to host The 21st Asian Conference on Clinical Pharmacy (ACCP 2022 in Nagoya) for four days from February 11th (Friday) to the 14th (Monday), 2022. ACCP has grown to become a gathering where over thirteen Asian countries, each with differing cultures and national circumstances, work together to advance clinical pharmacy in Asia. In the twenty four-year long history of ACCP, this conference will be the second time that Japan has been the host country, the first time being in 2001.
The theme of ACCP 2022 in Nagoya is "The Next Stage of Clinical Pharmacy from Asia". What is this next stage? Recent years have seen rapid medical progress, accompanied by advances and a diversification in pharmacotherapy. For pharmacists—experts in medicines—the next stage is assuming more positions of leadership in clinical settings. Pharmacists will occupy a central position in supporting patients as part of an inter-professional collaborative medical team and be integrated into patient-centered care. Pharmacists will be expected to have the expertise and skills that match the demands of the new era.
The conference will be a forum for pharmacists, faculties, and researchers from various countries in Asia to discuss clinical practice, education, research, and their contribution to wider society. We expect the conference to contribute to pharmacists' professional development and to the improvement of healthcare as a whole. At ACCP 2022 in Nagoya, you will experience firsthand the vitality and innovation of the participating countries. Through academic and social exchange, participants will deepen their knowledge, expand their horizons, and be energized for tomorrow's endeavors. We are looking forward to welcoming a great many participants to Nagoya in 2022.