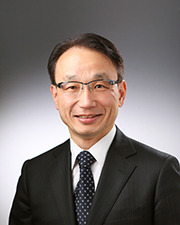 It is an immense honor for me to serve as Congress President of the 32nd Annual Meeting of the Japan Society for Endoscopic Surgery (JSES). The meeting will be held for the three days from Thursday, December 5 to Saturday, December 7, 2019 at the PACIFICO Yokohama, located in the Minato Mirai area of Yokohama, a city that combines tradition with the future.
The theme for this year's annual meeting is Challenge for Innovation.
Intelligence and skill are attributes in which we Japanese excel, and they are the sources of innovations in technique and technology. I am hoping that, through presentations and exhibits, the participants will share with each other the challenging spirit with which endoscopic surgeons around the world are endeavoring to conceive, develop, and bring to the operation room various innovations in endoscopic surgery. They will then be able to return home with a renewed commitment toward moving forward with further innovations.
The JSES was created with the vision of making minimally invasive surgery available to patients.
It serves as a forum where experts full of challenging spirit gather together beyond the boundaries of clinical departments, academic disciplines like medical or engineering, and sometimes profession and generation. Drawing fully upon their ingenuity, skills, and creativity, experts meet at JSES to review and validate reliable and safe techniques and technological developments.
― Everyone has the chance to be a technological innovator and to tell the world―
Anyone can be an innovator if they have a strong will to keep working for the advancement of surgical techniques and medical technologies in their daily clinical or research activities. It is my earnest hope that the 32nd Annual Meeting of the JSES will attentively listen to each of the study outcomes presented, as they have been attained through untiring trials and errors under various study environments and conditions. I would like this Meeting to enable us to take a major step further toward realization of making minimally invasive surgery available to patients.
Together with my colleagues at the Tokai University, I will try my utmost to make this Meeting as memorable and meaningful as possible for all fellow JSES members as well as all others gathered in Yokohama. I sincerely look forward to your active participation and cooperation.
Soji Ozawa
Congress President,
the 32th Annual Meeting of the Japan Society for Endoscopic Surgery
Chairman and Professor, Department of Gastroenterological Surgery,
Tokai University School of Medicine