General info
Don't miss out on the opportunity to be part of the new ICAS experience! Join us on our online adventure and take a virtual dive with us in the immersive online ICAS 12 world where you will have the opportunity to present your work, meet and engage in discussions with your colleagues during panel/roundtable sessions and informal meetings, establish new connections and enjoy arts- and crafts events and documentaries on Asia.
We are thrilled to give you a first glance at the shape of the 12th International Convention of Asia Scholars (ICAS 12), which will be organised online by Kyoto Seika University and the ICAS Secretariat from 24-28 August 2021.
You will find below a draft map of the scenery of the academic activities that you will be able to enjoy, but be aware that the festivities don't stop there!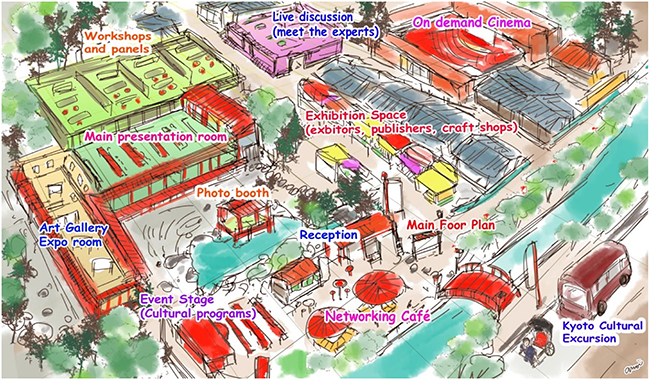 We can promise you that there will be a lot more to do with the cultural programme we are cooking up for you. Indeed, even if ICAS 12 moved online, you will still be able to discover the city of Kyoto through virtual tours. In addition, various shows, workshops, videos, concerts and exhibitions will also let you learn about not only the main attractions of the old capital of Japan but also its lesser-known aspects, such as contemporary- and underground arts and culture that are crafting the future of Japan and the world.
The more the merrier, so come join us next August at ICAS 12!